Select BioCycle Plus Ultimate™ is designed for high energy, high protein rations, typically found in lush grass and late cuttings of haylage. Rations containing high levels of these forages are candidates to utilize Ultimate. Ultimate is formulated to maximize rumen microbe populations providing a more thorough utilization of protein in the ration. An
increase in microbial protein results in an increase in milk protein and milk. An additional benefit of improved protein utilization within the rumen is a reduction of milk urea nitrogen (MUN) levels. MUN levels in excess of 16 mg/dl have shown to have a negative impact on pregnancy rates.
Ultimate contains BioCycle Plus as its base ingredient which offers immune system improvement and assistance against mold-challenged feeds. In addition to the BioCycle Plus base, Ultimate contains increased levels of enzyme potency and microbial sugars. Ultimate adds an additional enzyme, pectinase, that break down pectins (complex carbohydrates) found in plants. Rumen-protected forms of copper, zinc, manganese and cobalt have also been added.
Herds that are experiencing MUN levels greater than 16, along with more than usual events of early embryonic death, should consider including Ultimate in the ration
Use Directions
Mix Select BioCycle Plus Ultimate Concentrate into dairy feeds at a rate of one half (½) ounce (14g) per head, per day. If mixing twice per day, dose must be split between mixes and contained in all feed.
Stability
Stable for two years. Store in a cool, dry place.
Ingredients
Montmorillonite clay, Calcium carbonate, Silicon Dioxide, Yucca Schidigera, Sugars, Malic Acid, Saccharomyces cerevisiae (active dry yeast), Dried yeast culture, Dried Aspergillus oryzae fermentation extract, Dried Aspergillus niger fermentation extract, Potassium Iodide, Tartaric Acid, Dried egg product, Choline Chloride, Citric Acid, Benzoic Acid, Dried Bacillus subtilis fermentation product, and Niacin.
Guaranteed Analysis
Protease (Aspergillus oryzae) - 3,500 ug of protein hydrolyzed/minute/0.5oz
Hemicellulase (Trichoderma reesei) - 1,500 ug of hemicellulose broken-down/minute/0.5oz
Amylase (Aspergillus oryzae) - 750 ug of starch hydrolyzed/minute/0.5oz
Cellulase (Aspergillus reesei) - 625 ug of cellulose broken-down/minute/0.5oz
Bacillus Subtilis (Min) - 50 x 106 cfu/g
Highlights
Ingredients: Ultimate contains BioCycle Plus as its base ingredient and Ultimate contains increased levels of enzyme potency and microbial sugar
Focus: Enhance high energy and high protein rations
Feeding Rate: One-half ounce per head per day for lactating dairy cows
Product Data Sheet
Contact Our Team
Questions about our technology, the issues your livestock may be facing, or our competitive advantage? Our team of experts are always here to help.
Contact Us
Related Products
Sale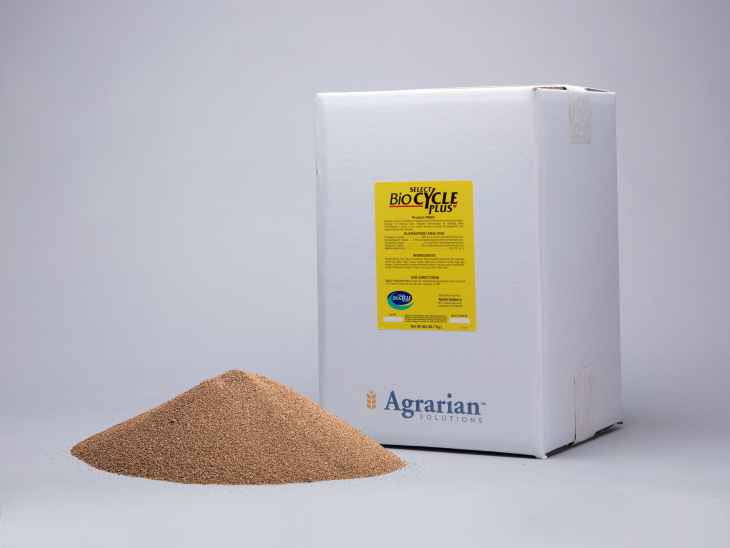 A Complete Approach to Feed and Herd Performance Challenges
$342.00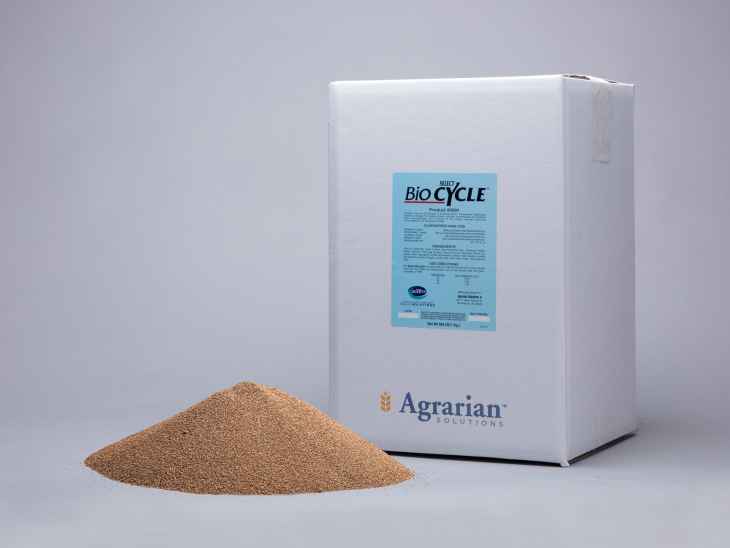 A New Approach to Direct-Fed Microbials
$208.00