Mycotoxin Awareness - 2018 Harvest Challenges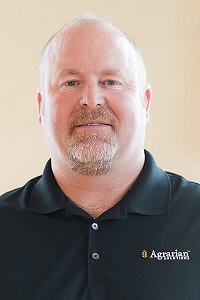 By: Chad Christensen, Agrarian Solutions - Regional Sales Representative
For many, the 2018 harvest created challenges. Above normal rains fell in September in most parts of the country. The window to harvest high quality corn silage at the proper moisture level into the storage structure of choice was cut short in many cases. Additionally, corn remaining in the field was exposed to excessive moisture that encourages the growth of ear molds. If the fungus is capable of producing mycotoxins, grain may be affected.
Sporadic risk exists with cool, wet growing conditions favoring fusarium mold produced mycotoxins. Be watchful for deoxynivalenol (also known as vomitoxin or DON), zearalenone, T-2 and fumonisins - these are mycotoxins produced by the Fusarium fungus. Other adverse weather conditions may reduce fermentation results and lead to less stable silage. Representative sampling is crucial to achieving an accurate mycotoxin test result.
Agrarian Solutions is actively sampling feeds for current customers, nutritionists and potential customers. Each month, hundreds of samples on average are returned making Agrarian Solutions a leader in the U.S. as a company to turn to for your sampling needs, not to mention our proprietary technology to control the problems that may affect at risk livestock.
As a part of our Mycotoxin Control program, we offer mycotoxin testing at no charge. Activation Laboratories (Actlabs) http://www.actlabs.com/ in Ancaster, Ontario, Canada, has become our partner in providing technologically advanced mycotoxin analyses. Actlabs is a global enterprise certified under ISO 9001 and 9002 specifications. Samples are now tested using high performance liquid chromatography/tandem mass spectroscopy (LC-MS/MS). This method adds excellent sensitivity and accuracy, and permits determination of chemically related toxins within the sample. In each sample, 17 mycotoxins are analyzed and reports are optimized for best use by the client, including estimates of degree of severity of the concentration(s) found.
Sampling feed is a simple process. Contact your local Agrarian Solutions representative to request sampling instructions. After a sample is collected, it is mailed in a postage paid envelope. Results are typically returned in 10-14 days with a recommended solution. If results confirm what was already suspected, choosing the right solution is necessary. Consider what Agrarian Solutions' proprietary technology can do for you.
Nutritionists and producers from coast to coast are utilizing the biological approach to mycotoxin control Agrarian Solutions offers. Ask your Agrarian Solutions representative to explain why DTX or Biocycle Plus can be the right choice for you.