Gut Wars: DTX Strikes Back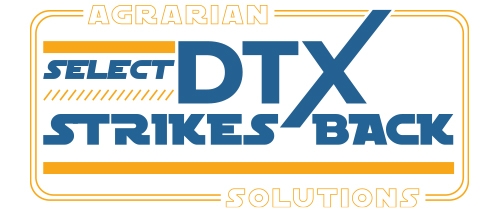 Last summer I wrote a piece on how DTX works to mitigate mycotoxin challenges in feed; the mechanism is all related to triggering a natural defense system in the cow's intestines. Last month a colleague, Dan, reminded us of the overall health effects of DTX and importance of long-term insurance against feed issues. I woke this morning to an article in Dairy Herd Management showing producers how to make subtle changes in rations to improve milk constituents to fit the current market and, thus, their bottom line. Is there any common thread? Depends on how you want to wage this war of the gut!

First, though, a comment about the DHM article*. It's really good and from a really good source. I'm not a dairy nutritionist; I found the recommendations compelling, and I was struck by some items. For example, "…milk composition can change rapidly in response to diet manipulation…". If I alter the morphology of the intestinal villi (e.g., inflammation or other), nutrient digestion and absorption will be affected, and not uniformly. Some nutrients will be impacted more than others. But the cow will likely respond in ways similar to a 'diet manipulation'; milk constituents will change and change rapidly. Mycotoxins can do that…alter intestinal morphology.
Further into the article are specific recommendations for improving milk protein. A little extra ground corn or fermentable starch such as HMC or wheat improves milk protein. Agrarian just released its newest mycotoxin report in which we compared 4th quarter 2019 to same period of 2020. HMC proved to be a consistent contributor of multiple mycotoxins to dairy rations. Wheat mids or lesser milling fractions are high risk for Fusarium toxins. And ground corn? Well corn, generally, can be a primary source for many of the toxin woes in a dairy herd. So, the article's advice was bad? Absolutely not, but producers/nutritionists will have to be savvy about ensuring the quality of those other diet ingredients when increasing their use. Or you can just relax and let some real insurance in the ration provide the protection you need. But wait, Doc, what about that gut war you started with?
Okay, here's the deal. Cows are different from pigs are different from chickens, right? Only to a point. Anatomy and physiology of the intestines are pretty similar, but when we use a cow experiment for swine folks or vice versa, there's always a battle over whether it is applicable…Gut Wars! DTX was used in a sow operation with some interesting outcomes, and they are fully relevant to dairy herds. Fed throughout gestation, DTX significantly improved protein digestibility (P<0.01) and showed a trend (P<0.10) in fiber digestibility. During lactation that same effect occurred for protein but fat digestibility also improved (P<0.05). The sows' milk had higher protein and lactose (P<0.01) and showed that same trend (P<0.10) for increased fat; plus, SCC were down (P<0.05). I'll just mention that piglets in that trial had much higher gain rates and 50% less frequency of scours. These are not results from changes in stomachs, but in intestines. Better intestinal health (none of the major mycotoxins were identified in the rations), better villus/crypt depth ratios, better digestion, better nutrient utilization. All of these are related to improved gut health and microbiome balance. Were lesser-known mycotoxins at work? Possibly, but who cares? These animals were protected by consistent inclusion of DTX in the ration. Keep doing the gut wars and species arguments if you wish, but the implications for dairy health and productivity are quite clear: a feed additive for mycotoxin control that also has a strong immune support component. DTX gives major benefits even when mycotoxins may be low, or at least test results suggest they are low.
Now, if you haven't yet taken advantage of it, Agrarian's DTX promotion is still running through the month of April. Great price break for a premier feed additive is yours for the asking. Get in touch with your Agrarian or Select Sires representative right now and give your herd the full benefits of a truly novel product. Tweak those rations to get best value in today's milk market, but build in the needed insurance to do so safely. DTX Strikes Back!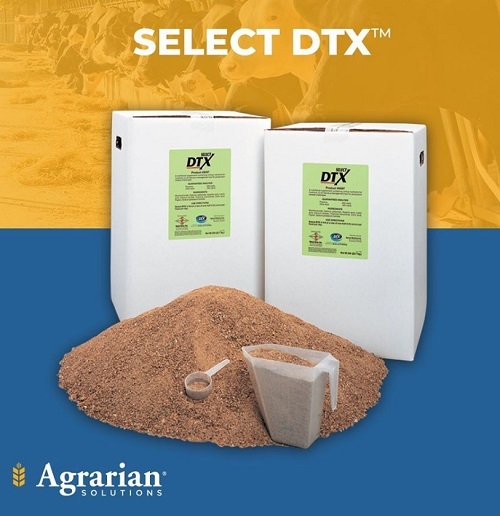 *Taylor Leach, March 1, 2021. Nutrient Knowledge: Feeding for Components. Dairy Herd Daily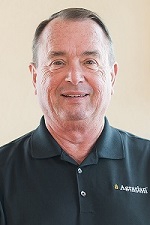 John Doerr, Ph.D., PAS, Dpl. ACAP - Vice President, Science and Technology - Agrarian Solutions