What's Happening at Agrarian Solutions®?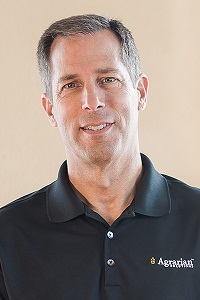 Mark Lantz, Vice President Operations - Agrarian Solutions

Many familiar with Agrarian Solutions do not realize the global reach and the multiple species served by the company. Our vision to be a leading global provider of solutions for the health and performance of livestock is being realized not only in the United States and Canada, but also in the Middle East (Egypt and UAE) and Asia (Thailand, Malaysia, S. Korea, and Taiwan). All of the products we sell are based on our unique and proprietary blend of L-form (cell wall deficient) bacteria.
In the United States we serve a significant portion of the dairy market. As today's dairy producers face unprecedented challenges, Agrarian products provide the means for many producers to gain a competitive edge on their peers. Our feed additives have a long and proven track record of performance in this market. We are providing dairy producers throughout North America with our free mycotoxin sampling service where our independent lab is delivering state of the art results from well over 2000 samples each year.
We have recently concluded several swine research trials in Thailand that continue to prove the effectiveness of this technology on a broad range of challenges faced by monogastric animals. With our L-form technology we are seeing very positive responses that are resulting in improved reproductive performance and strong growth performance.

In the Middle East we are shipping multiple containers to this region to assist poultry producers as they are striving to remain competitive in an ever-changing market. Once again, the use of the L-form technology is resulting in stronger and healthier animals and ultimately better profits for the producers.
We continue to strive to support our partners in more creative ways as we provide a broad spectrum solution for multiple species throughout the world. We are always eager to hear from our partners and colleagues with suggestions and ideas. We would not be the company that we are without the phenomenal support that we have seen from so many of you over the last 20 plus years. For that we wish to express our most sincere thanks!